The disclosed list refers to the period between 2006 and 2016 and includes 14 Portuguese researchers of which 4 are from the University of Minho.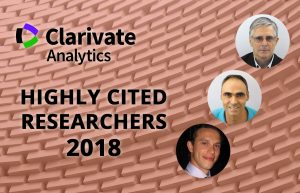 The School of Engineering of the University of Minho is one of the two Portuguese institutions with the largest number of researchers on the list of Highly Cited Scientists. The list now includes three researchers from the Centre of Biological Engineering – José Teixeira, António Vicente and Miguel Cerqueira – whose works are among the most cited by other scientists in scientific articles.
Three of the four Highly Cited Scientists of the University of Minho are from CEB. Nuno Peres, a researcher at the Center of Physics of the University of Minho's School of Sciences, is also listed. At national level there were 14 researchers distinguished by Clarivate Analytics. In addition to UMinho, there are other four national educational institutions, such as the University of Lisbon, the Polytechnic Institute of Bragança, the University of Évora, and the Universidade Nova de Lisboa.
Citations in scientific articles are one way of accounting for the importance, relevance, timeliness and innovation of the work developed by scientists. The analysis comprehends the period between 2006 and 2016.
Clarivate Analytics is a leading global organisation that records the bibliographic content and citations of the most influential publications in the world, showing the most relevant scientific works worldwide. Consequently, it turns out to be a fundamental tool for the analysis of scientific work, since numerous data and results of research projects from all over the world are made available.